Roblox avatar ideas are often the center of discussion in online chats. Whether you are new to the Roblox Metaverse, or a vetted user, having the fashionable avatar is a huge narrative. We've listed some of the best ideas for players to be on top of all fashion trends.
As we step into a new era of personalization and borderless digital connectivity, the ability to customize avatars according to one's preferences is a huge bonus. Roblox is one of the largest metaverses, with over 43.2 million daily active users.
Players utilize avatars to move around the metaverse to play games, interact with other users, and much more. The game offers several servers for players to play in, which includes all types of games ranging from action, first-person shooters, racing, and sports.
What are Roblox Avatars?
Roblox Avatars enable users to explore the games from a first-person perspective. Players can walk around, interact with other avatars, play games, and much more. Unfortunately, many users often end up with the same avatars despite allowing different types of customizations.
Many players are looking for different Roblox avatar ideas to represent their style. We've listed some of the best avatar options in this article below. The game has an in-built Avatar Editor that players can use to personalize their digital appearance. In addition, players can select items from specific categories, such as headwear, apparel, footwear, and more.
Imagine using a fully customized Goku-themed avatar within a Dragon Ball Z game server or wearing a cool police outfit while playing a crime-themed game within the Roblox Metaverse. You can claim ultimate bragging rights over your virtual friends and fully enjoy the experience.
We prepared the complete piece about Roblox Avatars, so don't forget to check that out.
20 Best Roblox Avatar Ideas of 2023
Many new Roblox games have been launched in 2023, and these have inspired a lot of new Roblox avatar ideas. We've listed out some of the best looks for the year 2023 below:
Cool Roblox Avatar Ideas
1. Gang O' Fries
The number one cool Roblox avatar is the Gang O' Fries. If you're a fast food fan, you'll love dressing up as a pack of irresistible French Fries. Each French Fry has a different expression, some angry, some smiling, and even surprised fries. Players can purchase this avatar bundle for only 250 Robux. This bundle has also been crowned the victor of Roblox's third avatar competition.
2. Roblox Zombie
Do you love playing scary games on Roblox? Think of how much cooler it would be if you entered a terrifying digital world with a zombie as an avatar. This creepy avatar will fit perfectly with your game; you can even use it to terrify your virtual friends!
The avatar shows a brain-hungry zombie that has ripped clothing and rotting flesh. One of the legs is also peeled off completely and is showing bones. You can walk around Roblox and be the center of attention with this cool Roblox Zombie bundle for just 250 Robux.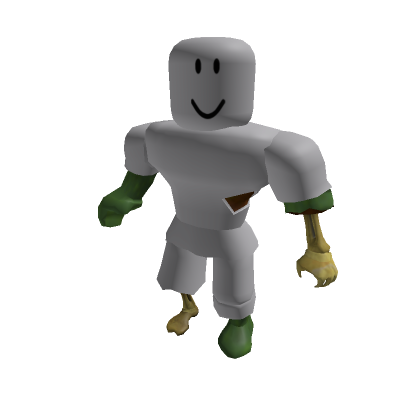 3. Paladin
Looking for a cool Roblox avatar, look no more, Knights of Radcliff: Paladin bundle is an excellent choice for fans of ancient mythology and brave knights. Imagine fighting dragons in your golden armor. The best part is, players can purchase this bundle for free! You have to go to the Roblox store and click "Get."
The bundle includes several cool animations and items such as the torso, hat, and other accessories. Once you've adorned this brave knight's armor, you can begin defeating your foes and saving damsels in distress in no time! This shiny bundle will make you one of the coolest players in the game.
4. Elemental Crystal Golem
Priced at 400 Robux, this Roblox avatar is definitely worth the price. Imagine walking into a server as a golem made from levitating rocks. Everything about this avatar, from its animations to its accessories, is super cool.
The color scheme of this bundle is also very unique. The figure itself is black, and the golden crystals on the avatar make it stand out! So if you're planning on playing the villain in any game, this is the avatar you want to use!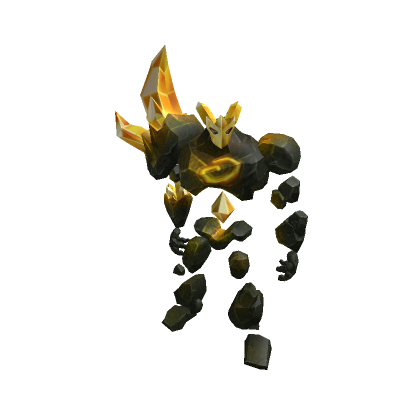 5. The Nine-Tailed Fox: Tenko
This Roblox avatar is one of the coolest options for anime fans. This cool Roblox avatar is a wise old fox that can transform into a man or a woman of any age as soon as the fox mask is worn.
The avatar has nine tails, making simple animations such as walking appear very impressive. The bundle can be purchased via the Roblox store for only 250 Robux. You can wear this avatar skin to become a real virtual anime character to play incredible games with your friends!
Cute Roblox Avatar Ideas
6. Nezuko Kamado
If you've been involved in the anime community for a while, it must have been impossible to overlook the Demon Slayer series. One of the cutest characters from the series, Nezuko, has been featured as a Roblox avatar. This cute avatar can be made by combining several different accessories or can be purchased for 255 Robux. The close attention to detail makes this avatar a must-have for all anime lovers. Nezuko wears a bamboo hat with a traditional kimono.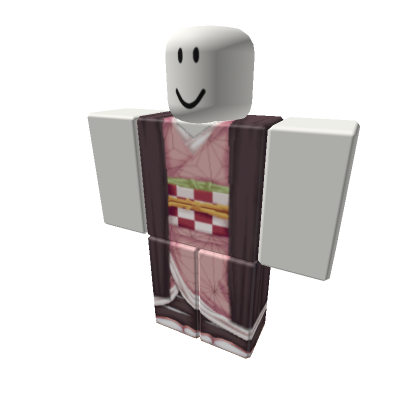 7. The Birdcaller
For those that love nature, the Birdcaller is an excellent idea for an avatar. Players can purchase the cute bundle from the avatar store for 250 Robux. The avatar symbolizes freedom; the player can walk around with two blue birds fluttering around them. According to the Roblox store, she can control birds, speak a new language, and dance into the wind, making it an exciting choice for an avatar.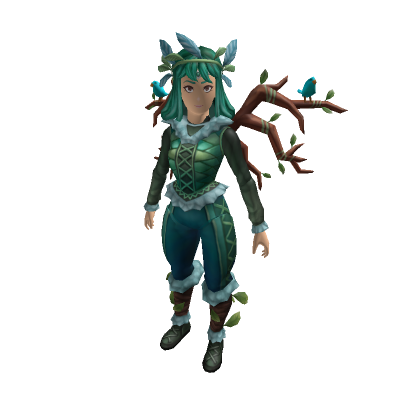 8. Stellar the Solar Scientist
This cute space explorer can be purchased from the Roblox store for 250 Robux. The avatar explores space to search for extraterrestrial life. Stellar wears a space suit with cute purple hair, and everything about her gives off positive vibes. Some stars are constantly circling her head, with other cool animations that will make other players notice you on their servers.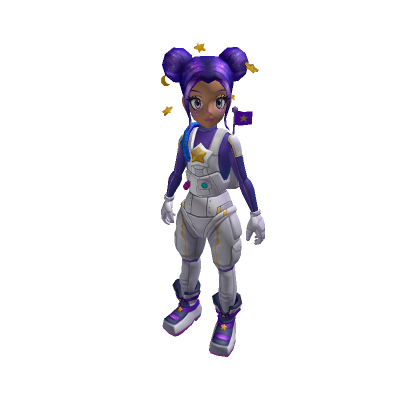 9. Astolfo by Fergusguy300
If you're a fan of the blocky Roblox avatar shape, you do not have to change it entirely for this one. Astolfo comes from the famous anime series Fate and is another player-created combination perfect for teens. Everything ranging from the attire to the electric pink hair makes this an irresistible cute idea for avatars. You can purchase the accessories separately, for example, the Astolfo Casual Pants, Simple Black Hair Bows, Astolfo Casual Shirt, Pink Hair Bow Tie, and Cutiemouse. All of this should cost you under 175 Robux.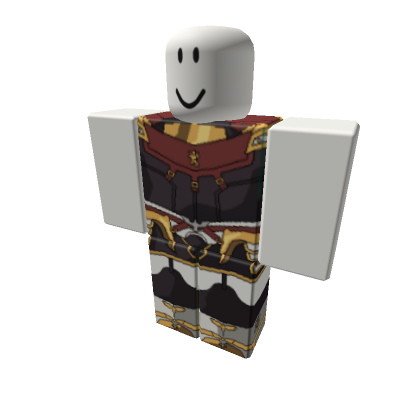 10. BaconovichLoL
This avatar is not just stylish, but also incredibly cute! With the adorable Noob Shoulder Friend and the Bacon Buddy, this avatar is sure to turn heads. The Dark Matter, Shadowed Head, and Menacing items add a touch of mystery to the outfit, making it all the more intriguing.
The pop of purple from the new PurplePants and the Holiday Crown is a playful addition to the outfit, while the Pal Hair and Simple Black Circle Glasses provide a classic and timeless look. And who can resist the hashtag #NoFilter? This avatar is perfect for anyone who wants to show off their fun and playful side while still maintaining a touch of edge. This avatar can be made in 285 Robux!
Hot Roblox Avatar Ideas
11. GsQ_Evades
GsQ_Evades is the epitome of style and stealth in the world of Roblox avatars, combining sleek fashion with a no-nonsense attitude. From his black fedora and tactical headset to his red-sided hair and clean red spikes, every detail of his wardrobe has been carefully curated to create a confident and sharp personality. With a skin-colored head adorned with mysterious horns, GsQ_Evades avatar's overall appearance is both intriguing and alluring.
With a total of 890 Robux, GsQ_Evades is a prime example of how to create a hot and fashionable Roblox avatar while staying true to your personality. Whether this avatar is hanging out with friends or completing missions, it is sure to turn heads with its impeccable style and edgy flair.
12. Police Officer Nash
If you're playing crime-based games in the Roblox metaverse, you can uphold the law by wearing this incredible police officer outfit. Fully equipped with all badges, this hot Roblox avatar allows players to walk around with a certain amount of authority. To complete the look, the sunglasses also give off a bad-boy vibe.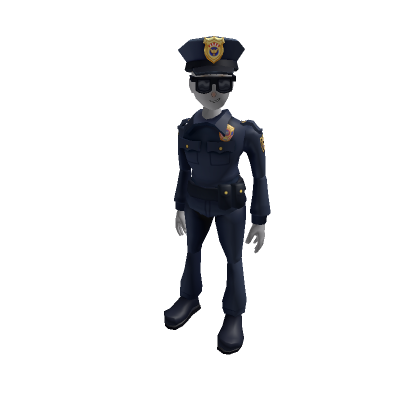 13. City Life Woman
Let loose and showcase your confidence by adorning this city-life woman avatar. There are several beautiful accessories, such as the wristband and belt, with a sassy haircut and casual attire. If you're looking to be the center of attention in every Roblox server, this sleek avatar is undoubtedly the one to use.
14. [5kcelestino]
Looking to spice up your Roblox avatar? Check out 5kcelestino avatar idea that's sure to turn heads! With just 100 Robux, you can achieve a sleek and stylish look that's perfect for any occasion.
First, let's start with the centerpiece of this outfit – the TanqR Bedwars Buddy. This accessory is a must-have for any fan of the popular Roblox game and is sure to add a touch of personality to your avatar. Pair it with a crisp white suit and black vest for a classic look that's both elegant and timeless. For a more edgy vibe, swap out the white suit for a grey suit with a black vest.
Now, let's talk hair. The Grunge Boy Hair in Black to White is the perfect finishing touch to this outfit. With its bold contrast and unique texture, it's sure to make a statement wherever you go. So, what are you waiting for? Grab these items today and start turning heads with your new and improved Roblox avatar!
15. Skater Girl
This avatar features complete skateboarding attire, including knee pads and a hat. While wearing this hot outfit, you can glide around the Roblox metaverse using your skates. Players can purchase this look for as little as 200 Robux within the store, and you can start skating in no time!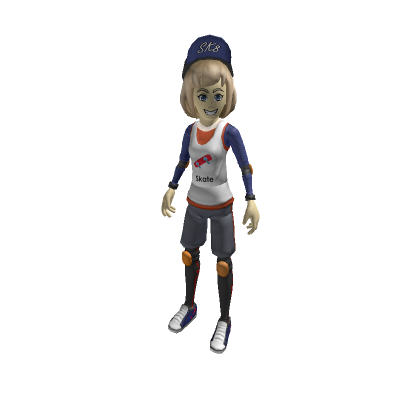 16. Chxshun
Meet the festive and fierce avatar of the season – the Nutcracker Assassin. With her striking black soft bangs, freckles, and cute full bangs, she is ready to steal the show. But don't let her charming looks fool you, for she is also equipped with the deadly Sheathed Katana Set strapped to her back waist. The Christmas Nutcracker Cosplay pants and shirt add to her festive flair, while the Manga Mask – Worry covers her face, keeping her true identity a mystery.
The Nutcracker Assassin's black low indie pigtails are a testament to her fearless spirit, while the glamorous redhead bow serves as a bold contrast. With the perfect mix of holiday cheer and fierce determination, this avatar is ready to take on any challenge. And all this can be yours for just 72 Robux. Don't miss the chance to add the Nutcracker Assassin to your collection and unleash her festive fury!
17. Nokisolo
Introducing the edgy and avant-garde avatar of the season – Nokisolo's killer ensemble! Featuring a bold and daring Black Pierced Punk Hat, this outfit is perfect for those looking to make a hot statement. And let's not forget the Elf Ears w/ White Piercings that add a touch of whimsy and fantasy to the look.
The striking White/Black Split Anime Hair is the perfect complement to the outfit's punk vibes, while the plaid black shirt adds a touch of classic style. The Calm Anime Head (Red Eyes) is the ideal accessory to complete the ensemble, with its cool and collected expression.
And don't forget about the ultra-trendy antisocial pants, perfect for those looking to add an extra edge to their look. With 300 Robux to spare, this avatar is a must-have for any fashion-forward individual looking to stand out from the crowd.
18. crowblox1000
Get ready to rock this cool and casual-looking avatar with the Rode Clonny Games Hoodie and the "Generic Straw Hat" that adds a touch of classic style to your avatar. Let your confidence shine through with the Know-It-All Grin that completes your laid-back vibe.
For the perfect bottom, slip into the Dream Green Pants with Shoes minecraft smp 2.0 that offers comfort and style in one. Complete your avatar's outfit with the Black Messy Hairstyle, adding a touch of edgy coolness to your look. This entire outfit costs only 180 Robux, making it an affordable yet fashionable option for your avatar.
19. RichJohnPlayz
Introducing the stylish avatar of RichJohnPlayz! This avatar is all about edgy streetwear with a touch of angelic grace, which makes it very hot. The centerpiece of this outfit is the RIH Shirt, complemented by the Graph Pants for a cohesive look. The Blonde Fluffy Middle Swept Hair adds a touch of youthful energy to the ensemble.
To bring out the rebellious spirit of the avatar, the Squiggle Mouth, and Sheathed Katana Set on the back waist are a perfect fit. The Fallen Halo adds a hint of celestial charm, while the Roblox Battle Cap rounds out the outfit with a dash of video game-inspired fashion. With a total of 334 Robux spent, RichJohnPlayz is sure to turn heads with this one-of-a-kind avatar.
20. WhiteSkulldevitionxx
The WhiteSkulldevitionxx avatar is a hot devilishly good look with an all-white theme. The centerpiece of the outfit is the White Demonic Horns, which give the avatar a fierce and intimidating appearance. Complementing the horns is the Faceless White Mask, which adds an air of mystery and anonymity to the avatar.
For weaponry, the White Demon Trident is an excellent choice, as it matches the white theme perfectly and adds a touch of danger to the avatar. The White Demon Tail is also a nice touch, adding another element of demon-like features to the avatar. To complete the outfit, the avatar is dressed in a white and grey pajama set with a simple yet stylish White Shirt w Black Thrasher Hoodie. The final touch is the White Messy Hairstyle, giving the avatar a wild and untamed look.
Overall, the WhiteSkulldevitionxx avatar is a stunning example of how an all-white theme can be used to create a cohesive and visually appealing outfit. The demonic elements of the outfit, combined with the white theme, make for a striking and memorable appearance.
You may also like:
3 Roblox Avatar Ideas Inspired By The Pop Culture Characters
Pop culture refers to trending fashion, music, and everything we see in the media these days. It includes the latest and popular shows and other social aspects as well. These references also translate into the virtual gaming space, with players coming up with unique Roblox avatar ideas to look like pop culture characters. Here are a few examples of them:
1. Red Guard Avatar Idea
Squid Game, one of the most popular shows on Netflix, also has its characters on Roblox. You can select the red hooded jumpsuit, the black freaky masks, large weapons, and other accessories to create your personalized pop culture character of Squid Game on Roblox.
2. GOKU Avatar Idea
Dragon Ball Z is one of the most common anime in pop culture, and most of us are familiar with the character. Those who are fans and want to showcase the warrior side of Goku in their Roblox avatar can always get their hands on this fantastic Roblox Avatar by combining different accessories.
3. Venom Avatar Idea
If you've watched the Spiderman series, you know who Venom is. Players can now customize their avatars to look just like this character. However, it is essential to note that combining accessories to make this character is more complex than it seems. Several online tutorials teach how to incorporate similar shirts and accessories to look identical to one of Marvel's most famous villains.
How to Build Your Cool Roblox Avatar?
There are thousands of accessories available within the Avatar store. You can merge the accessories to look like a famous character or use each piece to resonate with your personality. For example, if you like the color blue, plenty of blue-themed Roblox outfits and other accessories are available within the store. Some accessories are free, but you may have to pay for rare items.
1. Create Roblox Avatar in the Studio
You'd have to create your avatar within the Roblox Studio to personalize it. But first, if you need paid items, you must purchase Robux beforehand.
The steps are as follows:
Log into your Roblox account and click on the "coin" shaped icon at the top right. Next, select buy Robux and choose between a subscription and a one-time purchase.
Once selected, you will be redirected to a secure checkout where you can pay via Visa/Mastercard/AMEX/Paypal.
Next, you will see the Roblox avatar tab/column on the left of the website.
Click on the Avatar tab and enter the customization panel. You can first select between a few basic options, such as body size and base clothing.
Next, hover on the customization tab and select between different elements. If what you like is not listed in the free section, you can explore the paid tabs by clicking "Get More" at the top right.
You can either merge different accessories, or you also have the option of purchasing a premade bundle.
2. Customize Roblox Avatar color
Are you tired of your avatar's color? Here's how you change it.
Click on the Avatar tab, then select the body column on the Roblox avatar editing page.
In that body column, you will have multiple options to edit the body of your Roblox character.
You can change the shape or type of your avatar's body, skin tone, color, and everything else.
3. Customizing Other Aspects
The best part about personalizing your Roblox avatar is that you can alter everything else, from your character's body to clothes, eyes, etc. To customize the other things, you must use the editor drop-down menu that allows users to implement their Roblox avatar ideas, gear, animations, and other things.
There is also an added option to upload a custom design file. Keep an eye out for the button "create" under certain accessories. Once you click the button, you can upload your file in the next step. The item will go into review and will be published if approved. Roblox charges a specific fee for customization or Roblox outfits, such as 10 Robux for pants, shirts, and other simple items. However, it is important to remember that the cost can go up to 750 Robux for other intricate accessories.
If you do not like something and want something else, you can get more accessories and skins from the Roblox store and apply them to your character. Moreover, you may need to purchase Robux to buy unique accessories. We've outlined the process of purchasing Robux earlier in this article.
Key Points
Players can explore the Roblox metaverse using their fully customized avatars.
Some of the best Roblox avatar ideas include Goku, Wonder Woman, The Nine-Tailed Tenko, etc.
Customizing and making the avatar according to your style is relatively easy and takes only a few steps.
FAQs
What was the very first Roblox avatar?
The first Roblox avatar was launched on 12th January 2006. This simple avatar had a blue or gray torso with yellow arms and green legs. Unfortunately, it has become the stereotypical "noob" look in the Roblox world, meaning the players that use these avatars are brand new and do not know how to play the game.
How many friends can you make and add to Roblox?
Roblox allows users; a 200-person friend limit. This means you can talk to many people on Discord and other applications, but you can only add 200 of your friends to Roblox. Choose wisely! Your gaming partners can make or break your entire gaming experience.
Where can I see my Robux quantity?
If you're using a web browser, you can view your Robux after logging in by clicking on the coin icon at the top right. However, if you're the Xbox app, you can view your balance at the bottom left next to "My Balance."
References
Avatar Characters | Roblox Creator Documentation
Roblox's avatars are about to get more expressive | MIT Technology Review